Today, Zone7 proudly announces a significant product release that is set to transform load management within high-performance sport.
With these cutting-edge enhancements, born from invaluable client engagement and feedback, Zone7 empowers elite sports teams to take control of their injury risk management like never before, ensuring that performance insights are finely tuned to their unique environment and training regimens.
Zone7's commitment to providing tailor-made solutions to its clients are exemplified through the following groundbreaking features:
1. All-new Periodization Planner
The brand-new Periodization Planner feature redefines how Zone7 manages injury risk. Teams can now upload their personalized periodization models, enabling the AI platform to deliver risk management recommendations precisely aligned with match schedules and specific training routines.
This upgrade brings about:
Real-World Insights: Insights now mirror real-world micro-cycle training scenarios, offering unparalleled accuracy.
Enhanced Flexibility: Teams can effortlessly adapt their training plans, whether they're making planned adjustments or reacting to unforeseen changes.
Comprehensive Periodization: The Periodization Planner accommodates the intricacies of various scenarios, including different match cycles (e.g., preseason) and split-team scenarios.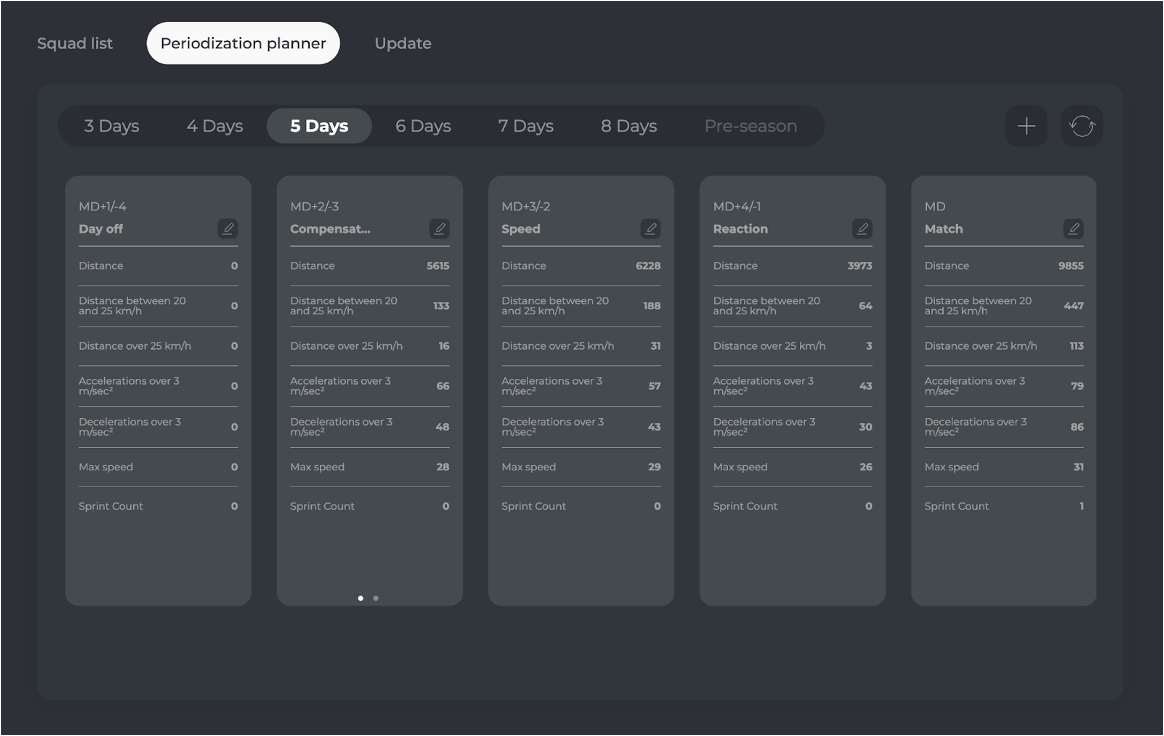 2. Recommended Sessions
Recognizing the importance of actionable risk management, Zone7 has revamped its insights to provide a more comprehensive range of options.
The revamped approach includes:
Easily Digestible Insights: Risk management insights are presented as recommended sessions, making them seamlessly integratable into training plans. Importantly, these recommendations draw from past team or individual sessions.
Diverse Suggestions: Teams receive a broader array of suggested options, tailored to various scenarios.
Smart Prioritization: Recommendations are automatically prioritized based on each team's unique periodization model, ensuring that the most relevant options take center stage.
User Empowerment: Intuitive filters empower teams to apply their own context and environmental knowledge to recommendations, while also adapting to changes in the training plan.
Integration with Micro-Cycle Simulator: Teams can easily adjust recommended sessions within the simulator, receiving immediate feedback on how these adjustments impact injury risk.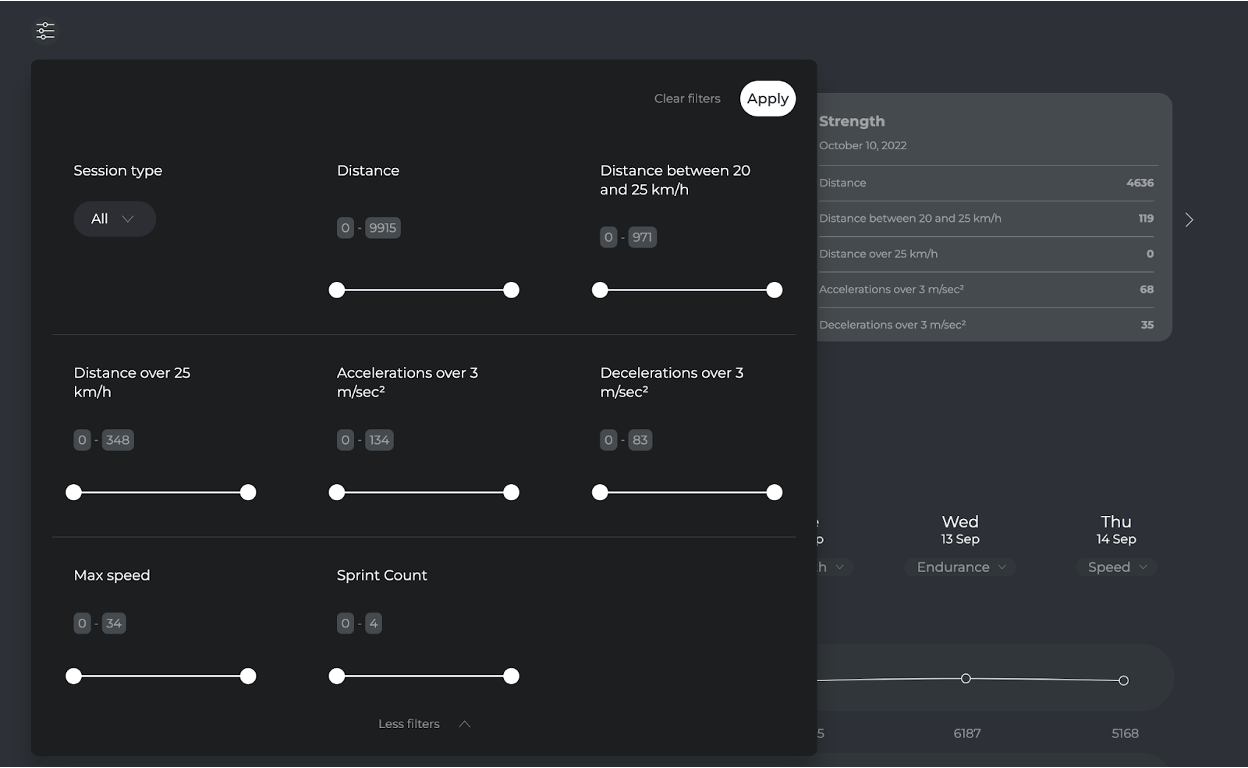 3. Revamped 'Micro-Cycle Simulator'
Following feedback from our clients, we have upgraded the Micro-Cycle Simulator so that it is now more user-friendly and intuitive than ever.
Key enhancements include:
Seamless Workload Application: Teams can effortlessly utilize players' typical workload outputs using preset session types aligned with the Periodization Planner.
Fine-Tuned Customization: Flexibility is at the forefront, with options to fine-tune input values using sliders or manual entry.
Integration Made Easy: Recommended sessions can be directly integrated into the simulator with a single click.
Swift Responses: The simulator now responds within seconds, ensuring a smooth and efficient user experience, especially when comparing several scenarios.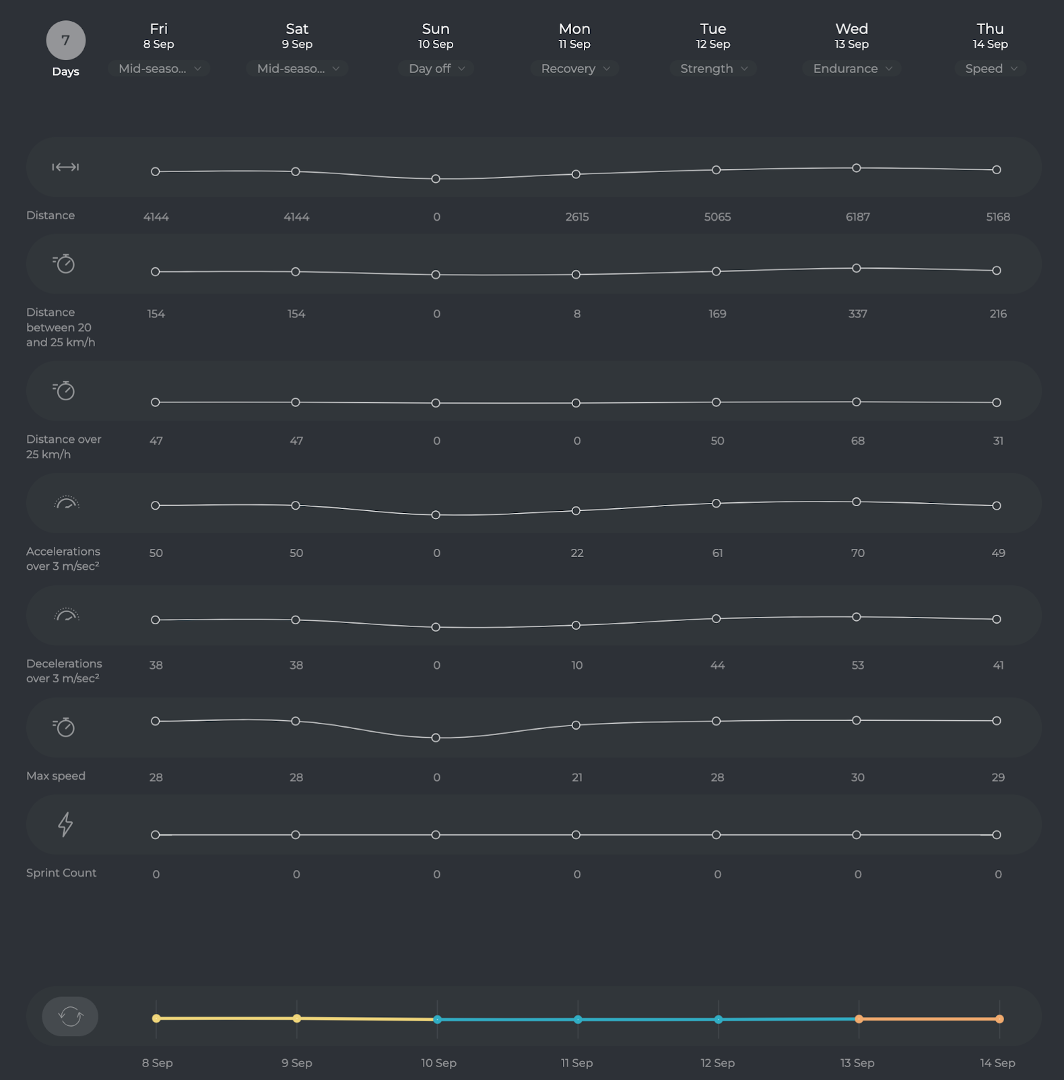 Zone7's Performance Director, Rich Buchanan, emphasises the significance of these updates:
"These upgrades empower end users to refine the Zone7 algorithm for pinpoint accuracy. By pre-populating your preferred periodization model, the algorithm will always reflect your periodization preferences based on the current training micro-cycle, adapting smoothly to environmental changes."
"Furthermore, the Periodization Planner can act as a bridge between performance and coaching staff. It fosters coherent conversation to ensure amplification of training routines whilst in parallel eliminating guesswork for artificial intelligence when bringing data-informed precision to load management processes."
With these groundbreaking upgrades, Zone7 reaffirms its commitment to revolutionizing load management, providing teams with a competitive edge in an ever-evolving sport.
To learn more about Zone7's game-changing features, please visit Zone7.ai or contact Rich Buchanan.
Discover More:
We are teaming up with Sportsmith to host an exclusive webinar in the coming weeks (date TBC). To get updates on this event and learn more about our new game-changing features, please register your interest via this link.
About Zone7:
Zone7 is an AI platform dedicated to enhancing performance and athlete availability for sports organizations. It employs advanced analytics to uncover patterns and insights within diverse datasets. These insights are leveraged to offer proactive training recommendations through our platform or to provide high-level research findings to leagues aiming to optimize performance data, including factors like travel and scheduling.
Established in 2017 by CEO Tal Brown and CTO Eyal Eliakim, Zone7 boasts over 200 million hours of athletic data analysis. Trusted by professional teams in the EPL, MLS, NFL, La Liga, Serie A, Zone7 is headquartered in Palo Alto, CA, with additional offices in Tel Aviv and London.
---
Ready to Elevate your Performance? We provide a comprehensive suite of products and services utilizing data and AI to enable greater performance and durability amongst high-performance teams.
To find out more, Book a Demo today.