Over the last year we have heard three things from our clients:
1. They wanted a quicker way to digest individual and team-based player health insights.
2. They wanted insights about risk forecasts and mitigation strategy recommendations that were explainable and transparent.
3. And they wanted more easily available in-depth information on data quality, anomalies and trends.
Today we are excited to announce an update to the Zone7 application and platform that we think addresses these and more! This is first in a line of significant announcements planned for the upcoming months.
The platform has a new look and feel, alongside new features like:
Insights Feed: A new, but familiar way to interact with performance data. A real-time newsfeed highlighting risk, performance and data quality issues for the immediate attention of the operator. Over time, this feed will present more and more information around the topics mentioned above to create a seamless flow of data-driven insights for users.
Enhanced Risk Triage: Easily manageable risk triage with individual and team-level insights on risk levels and forecasted injury types available at a glance.
Retrospective Audit Capabilities: A visual representation of the weekly risk trends across the team, with the added ability to navigate back in time and inspect such trends at any given moment.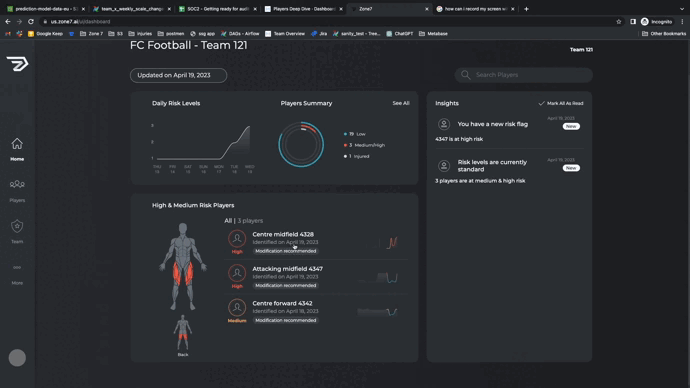 ---
Ready to Elevate your Performance? We provide a comprehensive suite of products and services utilizing data and AI to enable greater performance and durability amongst high-performance teams.
To find out more, Book a Demo today.