As Zone7 CEO, Tal Brown recently explained on the Zone7 Performance Podcast with Mike Blasquez, Assistant Athletics Director at UC Berkeley, and sports science consultant Jo Clubb, a former applied Sports Scientist at the NFL's Buffalo Bills;
"The process for us of going from one sport to another is very different to other tools in the sports tech ecosystem. To create an algorithm that understands the sport, the injuries, the cadence, the context of the periodization model, that's different."
In this article, Brown breaks down this process of establishing Zone7 within American Football into four-phases; establishing a baseline, exploring the next frontier of AI in football, identifying key catalysts for success, and receiving expert guidance to fine-tune the approach.
Phase I: Establishing A Baseline
As an AI company committed to promoting athlete wellbeing, lowering injury risk, and maximizing competitive performance, Zone7's journey started in soccer. We built our reputation in Europe, working with teams across the English Premier League, LaLiga, and Serie A, before taking the technology to new leagues in new regions like the US (Major League Soccer), Portugal (Primeira Liga) and Latin America.
When deciding which sport would begin our journey of applying AI to injury risk forecasting and load management, soccer was a very good fit:
Data abundance

: The egalitarian nature of soccer practitioners and the sport's role as a launch market for GPS companies allowed Zone7 to develop an unparalleled pool of reference data for the training and refinement of our algorithms.

Open-minded organizations

: Many practitioners work within clubs that share our desire to improve surveillance and load management processes through machine-driven analysis. Perhaps more importantly, they are keen to procure more value from the large volumes of data they collect on regular basis.

Substantial chronic elements

: The exposure to, and risks from, "long term" workload is substantial. Non-contact injuries (often associated with workload factors) consist of a large proportion of injuries to professional soccer athletes.

Competition cadence

: Fixtures take place at least once, sometimes twice per week. This provides multi-day periods between games, during which players and staff can recover and prepare. More importantly, these days are opportunities to modify routines and implement changes to the volume/ intensity of exposure to physical demands (aka load management).
Phase II: The Next Frontier
With Zone7 firmly embedded across the top soccer leagues, we are continuing our growth by simultaneously expanding into new territory – other sports.
Over the last year, our data science and engineering team has been quietly working with select organizations across the NFL and NCAA.
The objective: to thoroughly recalibrate Zone7's machine learning technology for American Football.
As a company, we believe the sheer size and dynamics of high-fidelity data at massive scale in American Football will benefit greatly from our AI-backed approach to load management and injury risk reduction.
This data, collected by every team from every practice and game setting (through uniform sport science technologies like Next Gen Stats, Zebra, and various GPS providers) typically includes athlete strength, flexibility, power, and recovery metrics. Its value is compounded by the complementary athlete muscular strength and recovery quality information collected inside team facilities.
To fully enable our platform and its benefits, however, we must recognize and adapt to the nuances separating soccer and American Football; a feat we have realized through working closely with early adopters to forecast injuries by as much as 65%. Major distinctions include:
Frequency of contact injuries

: The recurring nature of contact injuries in American Football demands a 'reprioritization' of impact data

. Specifically, the relative 'importance' of impact parameters must be woven into predictive models to reflect their higher influence on the American Football injury landscape. This is vital to establishing strong forecasting results around contact injuries

, as well as managing their more unpredictable nature.

Seasonality and game cadence

: American Football, at both the professional/NFL and college/NCAA levels, follows a very different season structure than soccer. Shorter fixture schedules and longer 'off season' breaks combine with higher intensity and more sporadic periods of exertion.

The Rigors of NFL Camps:

Unlike pre-season training in soccer, t

he NFL "camp" represents a unique challenge in sport science. It acts as 1) a standard 'preseason onboarding' (to gradually add workload and prepare athletes for the demands of regular season) and 2) a demanding selection process that narrows down the most suitable (and durable) athlete candidates.

These goals are inherently conflicting, and practitioners must find the fine line to manage athletes effectively. By analyzing the historical data teams have collected during prior "camps" or "preseasons", Zone7's algorithms can help.

Athlete dimensions and positional analysis

: There is a much greater disparity in height, size, speed, and power across an American Football than there is within soccer teams. While players in soccer juggle offensive and defensive duties in the 90-minute span of a game, American Football rosters typically have three subsets (offense, defense, special teams), each with their own needs and priorities.
The average Power 5 offensive lineman is 6'5" and 280lbs with an emphasis on balance and pad level. In contrast, the average defensive back is 6'0" and 185lbs requiring quick feet and leaping skills. Our platform has been adjusted to apply different AI 'workflows' for different football positions, effectively separating them as distinct "athlete types".
These differences must be accounted for.
Phase III: Catalysts and Expert Guidance
A few factors have allowed us to expedite the transition from soccer to football:
Common data collection tools

: Many of the wearables and strength testing technologies in soccer that collect data for Zone7 to analyze are also present in American Football programs such as Catapult, STATSports, VALD Performance, and others. With the input mechanisms for this data already established, we have scaled quickly, without compromising on quality.
Familiar micro cycle and loading patterns:

While the competitive schedules in American Football are not like-for-like with their soccer counterparts, there are parallels between the sports around

game cadence

. Specifically, the multi-day periods between games serve as ample intervention opportunities for Zone7 technology

, especially our

micro-cycle simulator product feature

, which allows

practitioners to configure and project different training, fitness, and workload scenarios up to seven days ahead of time.

Close Collaborations with American Football Experts

: As part of our recalibration process, Zone7 has enlisted practitioner experts who actively work within American Football. Their insights are invaluable as we capture the sport's nuances in our algorithms. Notable names include:
Jonah Rosner: Formerly the sport science coordinator for the NFL's Houston Texans. Rosner recently joined Zone7's newly formed Performance Team, a group of sports and data scientists focused on making Zone7's platform successful across its portfolio of clients in soccer, football, basketball, and beyond.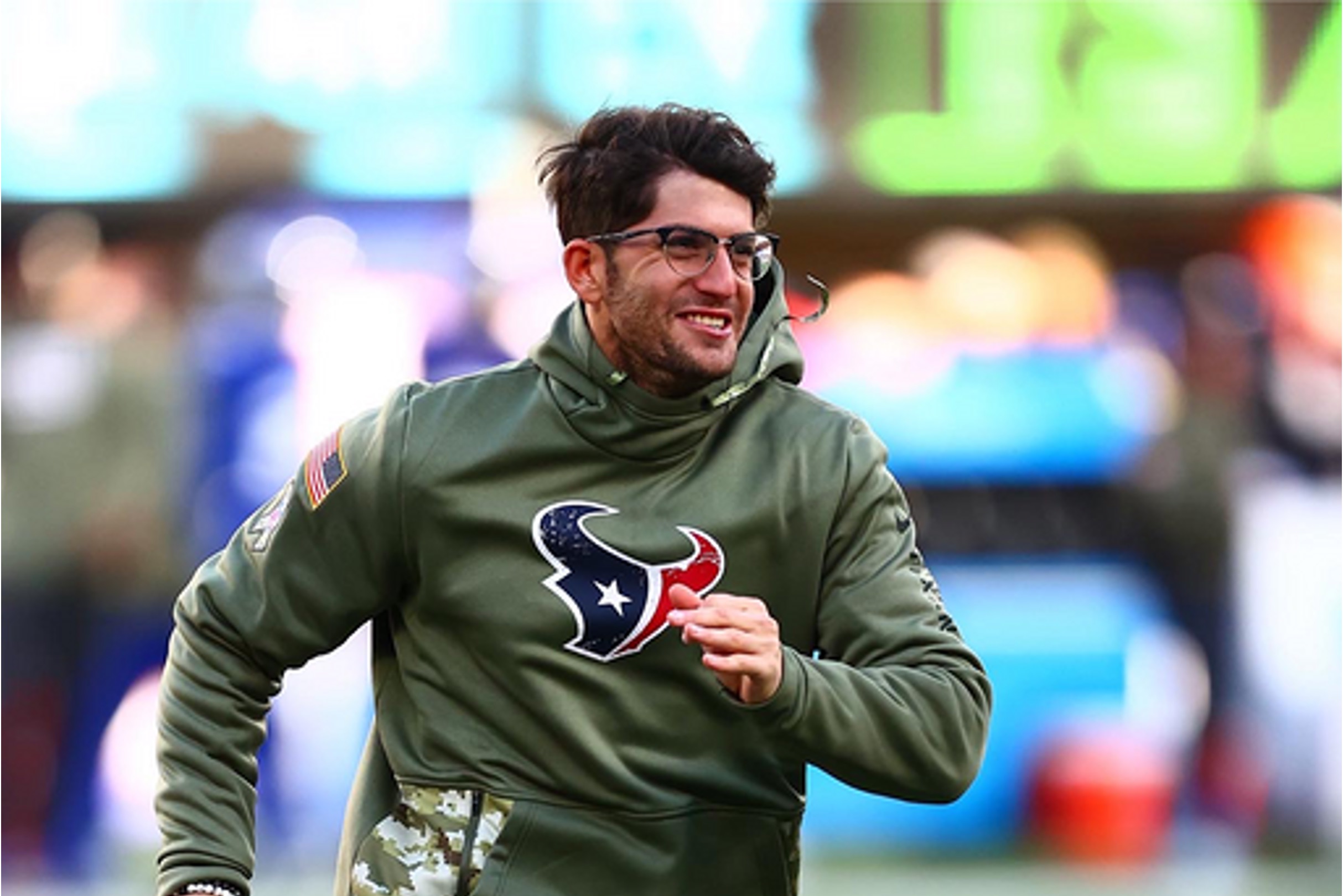 Jo Clubb: A veteran sports scientist who pivoted to football and ice hockey after a career in soccer. Jo has held roles with Chelsea FC, Brighton & Hove Albion, the Buffalo Bills (NFL), and the Buffalo Sabres (NHL).
We have also worked closely with our clients, including Mike Blasquez, Assistant Athletics Director at UC Berkeley. Blasquez has spent two decades focused on maximizing performance of the California Golden Bears Football Team.
Phase IV: Fine-Tuned and Gridiron Ready
Today, our full stack of services is actively deployed in American Football environments. They include:
Injury risk forecasting

Daily load management

Weekly simulation of load patterns (micro cycle simulator)
When it comes to these areas, and the AI underpinning them, there is simply no one size fits all solution across sports. The copy and paste approach is abundant with flaws. That is why we have invested so much time and attention in 'refitting' Zone7 for another sport before officially coming to market.
They say you only have one shot to make a good first impression. We could not agree more. Zone7 is well-prepared, well-drilled, and officially live within the NFL and NCAA.
---
Ready to Elevate your Performance? We provide a comprehensive suite of products and services utilizing data and AI to enable greater performance and durability amongst high-performance teams.
To find out more about our work, Book a Demo today.