With England and the other European nations beginning their qualifying campaigns for Euro 2024 this month (March), we decided to revisit some of our research conducted by Zone7's Data Research Analyst Ben Mackenzie, who previously interrogated an appropriate portion of Zone7's huge football data lake to explore injury rates for non-international players pre- and post-international competition and how to manage player injury risk upon returning from mid-season international tournaments.
In this article Carl Wells, Academy Head of Elite Performance at Sheffield United, has taken a closer look at the research comparing the injury incidence for non-international players in the 7-days pre-international break and post-international breaks in the 20/21 and 21/22 seasons and how mid-season international tournaments such as AFCON 2022, CONCACAF Gold Cup 2021, and Copa America 2021, have affected players' injury risk upon return to their parent clubs.
Wells has a long history of working within elite football environments. Beginning his career at Sheffield Hallam University before becoming Head of Performance at Sheffield Wednesday. He has since worked at The National Football Centre St George's Park, with the FA, and now with Sheffield United's academy.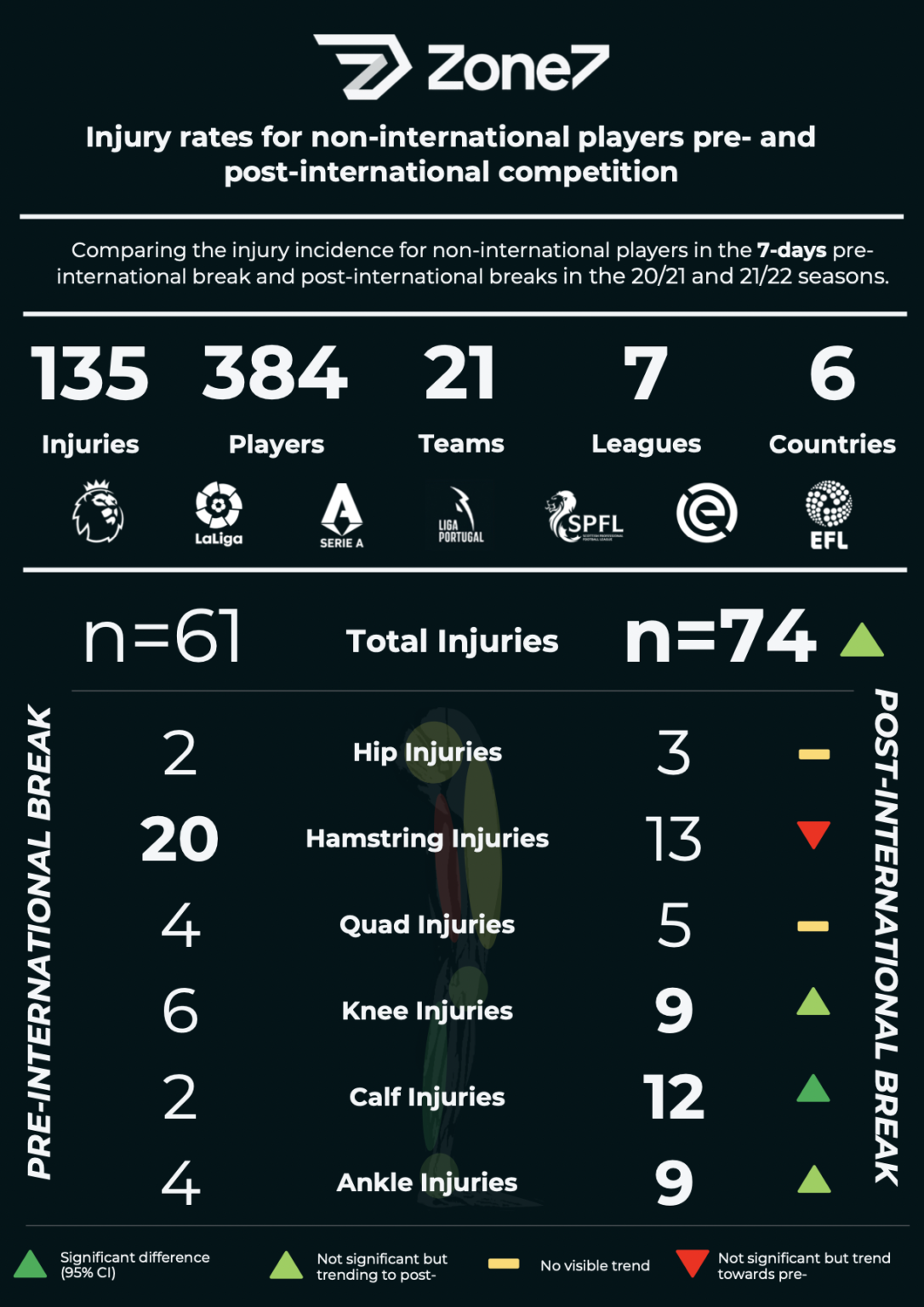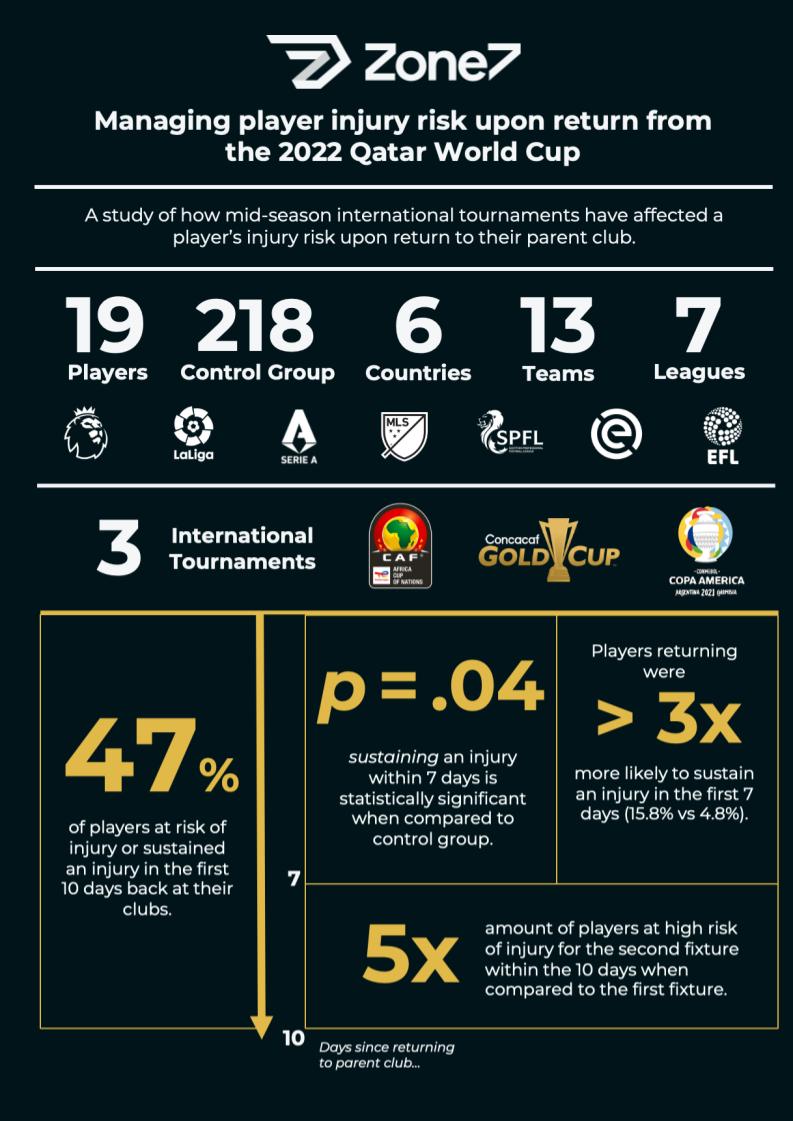 The multi-national makeup of elite football teams means a significant number of players will participate in tournaments for their home nation midway through domestic leagues. This scenario poses a performance problem for physical and medical support staff of how to manage the player's transition between different squads and competitions, minimising injury occurrence and maintaining physical condition for the benefit of the player and club. The latest data analytics provided by Zone7 offers unique and detailed insights relating to the specifics of injury rate and type amongst such international players, prompting discussion around impactful performance interventions during future competitions.
The increase in both injury risk and occurrence during the first 10 days on return to the parent club post international competition appears to be highly significant. Such observations suggest that the acute change in volume, intensity and density of training / playing pattern predispose players to injury. There are numerous contributing variables, with some largely uncontrollable, such as the differing physical demands of international football (Andersson et al., 2010, Bradley et al., 2010), the national teams training philosophy and changes to playing position / style of play. Yet, the quantification of such increased injury occurrence rates post international competition warrants consideration of how the negative impact of such variables can be negated. Key opportunities for domestic clubs are the windows pre and post the tournament. It is advisable that players who are to participate receive an individualised conditioning program to prepare them for the rigours of international competition, based upon expected training loads, playing surfaces, environmental conditions, and injury history. On return from a tournament, the injury risk increases from 3 to 5-fold within the first seven and ten days respectively compared to the control group. Such an escalation of injury likelihood to key players of high asset value suggests domestic clubs may benefit from periodising a player's return into full training and competition, providing gradual exposure to appropriate physical activity patterns. Such plans should be individualised, based around tournament loading data to highlight discrepancies in physical exposures between club and country. Other data sources to inform a player's phased return can be derived from musculoskeletal screening and routine readiness measures to ascertain how the player is adapting to the club's regime.
In contrast, players who do not participate during mid-season tournaments may a receive a "winter break", typically a period of reduced training with the absence of competitive domestic fixtures. The intention of such interventions is to allow recovery to prevent burn out and injury during the second half of the season. Interestingly, the analysis by Zone7 demonstrates an increase in the injury rate approaching significance when comparing the weeks post (74 injuries) and pre (61 injuries) an international break. Such an observation from a relatively large sample is particularly insightful, indicating improvements can be made regarding the design of conditioning programs and player management during these periods. Analysis of injury type during identified calf injuries to significantly increase post break (12 v 2). As it is the soleus muscle that is constantly engaged during low to moderate speed locomotion (Bohm et al., 2019), this observation may suggest players are not undertaking a sufficient volume of on-feet conditioning or strength maintenance of the ankle / calf complex. Additionally, there are anecdotal reports of increases in calf and particularly soleus injuries when switching between training surfaces, suggesting training surface exposure during remote programs should be considered. Alternatively, hamstring injuries show a reduced injury trend post break (20 v 13), It is difficult to determine the cause of this observation due to the lack of context regarding player conditioning programs. Has recovery been beneficial or have clubs utilised the break as an opportunity to strengthen and condition the posterior chain to help prevent future hamstring injuries?
In summary, the key takes from the Zone7 analysis are that further advancements in the integrated support between club and national squad staff may be necessary. Can performance support staff proactively plan to prepare players for acute changes in physical load incurred by mid-season tournaments, whether that relates to playing pattern, amount / intensity, and environment?
Secondly, while mid-season recovery periods can be beneficial, players must receive sufficient physical stimulus to protect against injury during a phased return. "The balance between recovery and stimulus is crucial."
References
Andersson, H.Å., Randers, M.B., Heiner-Møller, A., Krustrup, P. and Mohr, M., 2010. Elite female soccer players perform more high-intensity running when playing in international games compared with domestic league games. The Journal of Strength & Conditioning Research, 24(4), pp.912-919.
Bohm, S., Mersmann, F., Santuz, A. and Arampatzis, A., 2019. The force–length–velocity potential of the human soleus muscle is related to the energetic cost of running. Proceedings of the Royal Society B, 286(1917), p.20192560.Bradley, P.S., Di Mascio, M., Peart, D., Olsen, P. and Sheldon, B., 2010. High-intensity activity profiles of elite soccer players at different performance levels. The journal of strength & conditioning research, 24(9), pp.2343-2351.
---
Ready to Elevate your Performance? We provide a comprehensive suite of products and services utilizing data and AI to enable greater performance and durability amongst high-performance teams.
To find out more about our work, Book a Demo today.