Damian Roden is currently the High-Performance Consultant at RSC Anderlecht alongside performing several coach education consultancy roles. He is one of the most experienced and well-respected performance coaches to emerge from the English Premier League having been successfully implementing his philosophy at the highest level for over 15 years.
Like many young boys Damian grew up with aspirations to become a professional footballer, and after fulfilling his goal by playing for both his home-town club Wrexham FC and Columbus FC in the USISL league in America, his focus changed to education and coaching.
He completed a bachelors degree in Sports Science & Coaching, a Masters Degree in Exercise & Nutrition Science, and became one of the youngest coaches in the UK to gain the UEFA Pro Licence.
In this Q&A, Zone7's Performance Director, Rich Buchanan delves deeper into Damian's work, probes him on his philosophy, and aims to better understand how he goes about applying innovations, such as Zone7.
Q: Firstly, could you describe for people that haven't yet read the book, what is the Fit for Every Game training philosophy and what inspired you to write it?
A: Good question… and without going into too much detail it's a way of working to try to ensure that you have all your best players available in optimum physical condition for as many training sessions and games as possible.
If players are always available for training, then coaches can spend more time coaching, improving communication and decision-making between players, and ultimately helping them develop a greater understanding of how to execute the playing style.
Now this sounds logical, and you might say that this is of course what every coach, practitioner, and player aspire to, but in reality, the number of injuries reported, the number of careers ended prematurely, and the millions of pounds wasted through loss of productivity season after season globally paints a very different picture.
So, the Fit for Every Game training philosophy examines anything and everything that can be done to prepare a team effectively, optimise every aspect of performance and perhaps more specifically enhance player availability… all within a logical framework.
My inspiration ultimately came from owner Sheikh Mansour during my time at Manchester City. The heads of each department were challenged to seek out best practices and then report back on exactly what the department does to contribute to the success of the team.
As the Head of the Medical and Sports Science department, I was fortunate to meet many world-leading practitioners and visit some of the most successful brands from both sport and business before developing what is now the Fit for Every Game philosophy.
Consisting of four key chapters; Planning, Prevention, Conditioning and Regeneration each with three sub-categories I developed a document that I felt was worthy of becoming the 'blueprint' for the club in terms of performance.
I wanted to include categories that encompassed everything the department could have an influence on that would stand the test of time. What I mean by that is that planning would always consist of the same sub-categories, prevention would always consist of the same sub-categories etc. etc. but the more granular detail, the processes, protocols, and procedures within each category would always be under review and evolve over time.
So, in summary, the book is the evolution of this philosophy based on my various experiences working with some of the world's best coaches and players, successes, many mistakes, many reviews, and the desire to help both novice and experienced coaches, practitioners, and players bypass the mistakes I made and benefit from the successes I have had…. Certainly, in terms of high levels of player availability.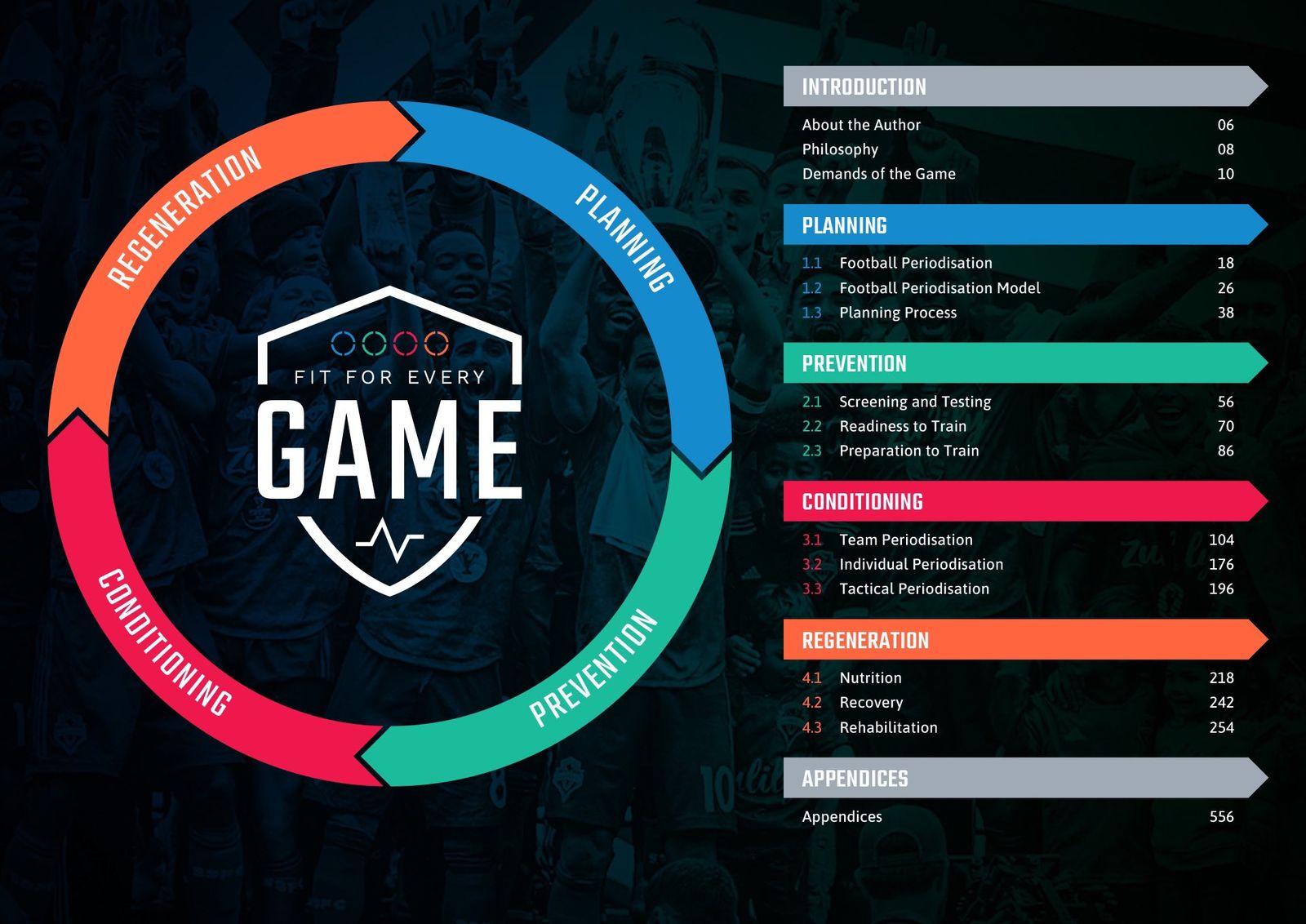 For more information, visit www.FitForEveryGame.com
Q: Throughout the book, you often cite the influence of key people such as Sam Allardyce, Mark Hughes and Raymond Verheijen. These individuals all enter your career at different stages with each impacting your personal philosophy, what is it specifically about these coaches from a performance lens that makes them stand out?
A: Sam as everyone knows did an amazing job at Bolton Wanderers and this is where my career started. He was revolutionary in so many ways. For instance, he used psychometric questionnaires to acquire the right type of player and staff member, periodisation of training to peak on game day, individual and team match analysis to help educate players about their roles and responsibilities, and cryotherapy to optimise recovery. And this was in the early 2000's.
He would know the key performance metrics of each and every player for every training session and every game and often quiz me on my opinion in relation to how we manage each player. So, he really taught me the need to pay attention to detail in every aspect of my role that could have a positive effect on performance.
Mark was very similar in terms of attention to detail and was renowned for his ability to produce honest, hard-working teams that finished the season strong, something I always strive to achieve.
Mark provided me with many invaluable learning experiences. He gave me the freedom to develop and implement my philosophy. Importantly, he allowed me to make mistakes and learn from them. This enabled me to evolve my approach at the highest level with Blackburn Rovers, Manchester City, and Stoke City. For this, I am extremely grateful.
Lastly, Raymond introduced me to his innovative football periodisation model that entered the spotlight following his involvement with the Korean National Team in the Korea World Cup in 2002. In short, this was a method to improve the conditioning of players and the quality of football for a team throughout the whole season.
Many people are threatened by how outspoken and controversial Raymond can be, but his methods are undeniably revolutionary. Based on common sense, fact, and underpinning scientific principles, I witnessed first-hand just how effective the football periodisation model was, and still is, during my time at both Manchester City and Wales.
Having spent many hours being mentored by Raymond, a significant part of my philosophy is based on the intricacies of his football periodisation model, in addition to other aspects that aim to complement it.
Q: How have you seen the demands of the game change over your career to-date that impacted your philosophy and what adaptations do you anticipate practitioners like you will have to make in the future?
A: Football is, and always has been, a high-intensity sport involving 90 minutes of explosive actions such as accelerating and decelerating, followed by less intensive actions such as jogging and walking. However, the amount of high intensity and sprint distance has almost doubled over the last decade. This has made me consider the 'individual' more than ever as each player is so unique and will respond differently to training and games.
It is becoming a topic for discussion more and more on Coach Education courses, but I think coaches, practitioners, and players alike need to become more well versed about the intricacies of periodisation models and how to fully implement holistic models like Verheijens football periodisation model or Frade's tactical periodisation model.
By default, these models cater for each individual as players are always playing football in their position, in relation to the playing style. Each training day is weighted in terms of load and use of coaching interventions to ensure players are fully recovered, overloaded physically when appropriate, sufficiently educated about their tactical roles and responsibilities, and fresh going into games.
Roden during his time with MLS side, Seattle Sounders (Credit: soundersfc.com)
Q: A lot of these changes are the results of new innovations which have emerged within sports science. How have you gone about implementing such innovations and continuing to seek out best practice?
A: As discussed earlier, my philosophy is based on a framework, an ongoing cycle of planning, prevention, conditioning, and regeneration so within that framework I constantly review each of the sub-components of the cycle and see how it can be improved or evolved. So, for example, whilst the principles of training and the principles of the training week don't change, how can each aspect of each session be improved somehow? How can the preparation be improved? Can anything improve on an individual level? Was the recovery after the last game effective? etc. etc.
In terms of innovation, I am very cautious and get approached about 'the next best thing' quite frequently when in actual fact if you do the basics very well you have a solid foundation.
One particular area of interest borne out of reading literature, keeping my pro licence up to date, and attending as many continued professional development events as possible is readiness to train. More specifically monitoring and observing data to help me make an informed decision about each and every player on a daily basis to get the best out of them. The only downside to that at times is the time taken to cross-reference everything you look at for each player and make an accurate decision about their 'readiness'.
Q: More specifically, with the capability being displayed by artificial intelligence in many aspects of life, how do you view the role for Zone7's implementation within a high-performance environment?
A: I was very cautious initially about artificial intelligence because I am the type of person that wants to be certain of something before I use it and there was always an element of doubt. I have to say however that when I discovered Zone 7 it was like music to my ears. I think it will completely revolutionise football and the high-performance environment for years to come.
It not only aligns with my philosophy of enhancing player availability, but it completely dovetails with the process I use to make decisions about players. The platform takes all the information I collect separately, reads, absorbs, and measures it all in relation to the multiple sets of data within the system and provides a simple red, amber, or green 'risk' verdict with incredible accuracy. You only have to look at the teams using the system to see that.
I think the most important thing to note is that it is not a system to prevent players from training, in fact, it very frequently indicates that certain players need to do more of a certain type of training. It does however help me to have informed conversations with the manager to help him have his best players available at the weekend.