With the World Cup coming to a conclusion, Zone7's Data Research Analyst Ben Mackenzie has interrogated an appropriate portion of Zone7's huge football data lake to explore injury rates for non-international players pre- and post-competition.
In this article Marcio Sampaio, a fitness coach at Fenerbahçe SK, has taken a closer look at the research comparing the injury incidence for non-international players in the 7-days pre-international break and post-international breaks in the 20/21 and 21/22 seasons.
Sampaio has a long history of working within elite football environments. Starting his journey at SC Braga, Marcio has also worked at Sporting CP, CR Flamengo, and SL Benfica prior to joining Fenerbahçe SK in the Turkish Süper Lig at the start of this season.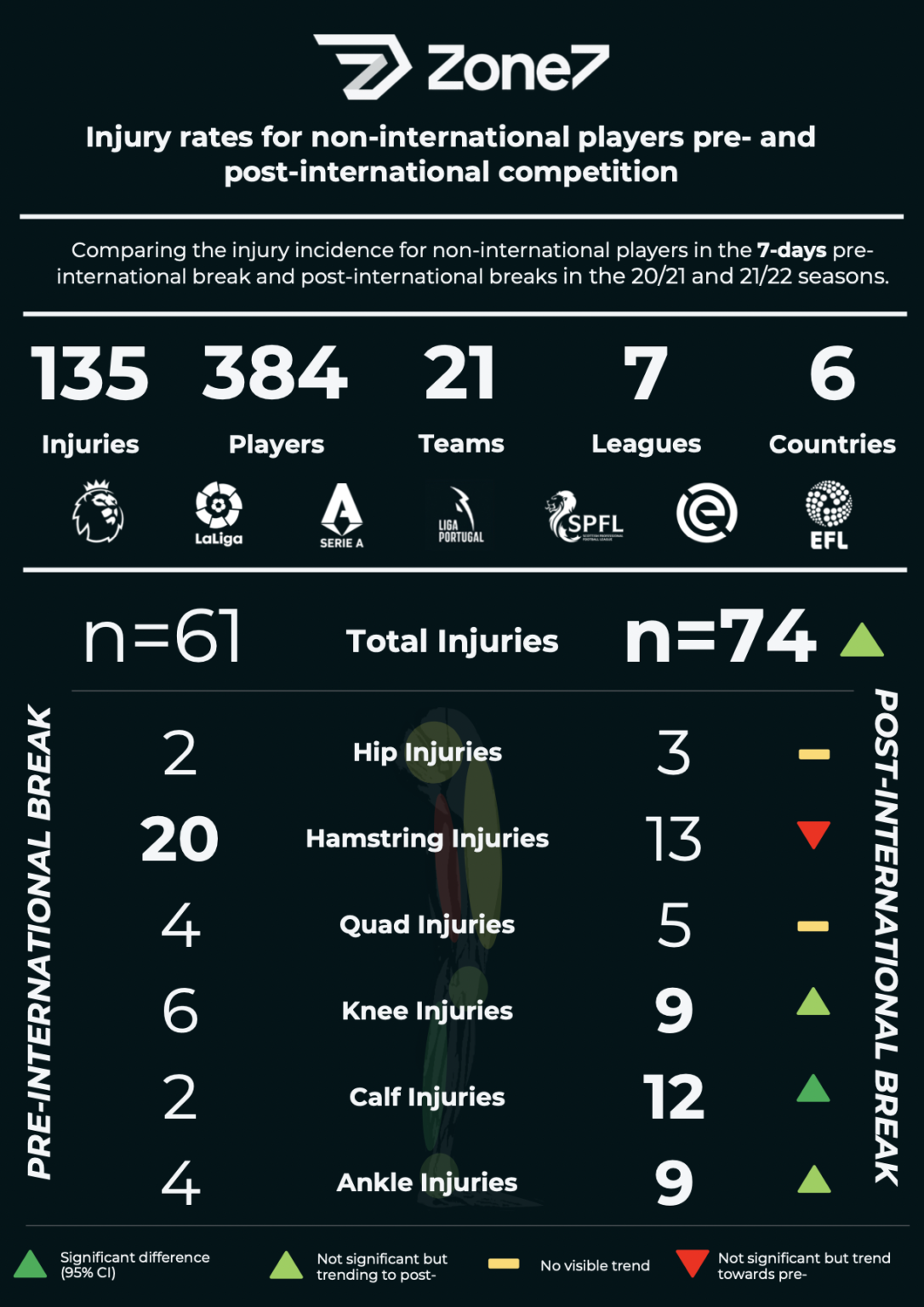 * Please note: This transcript has been translated from Portuguese to English and, as a result, some colloquial nuances may have been misinterpreted.
From my experience, players who remain present with their teams during an international break will usually have had a busy schedule of games beforehand, with many playing twice a week.
In many leagues, including La Liga and Liga Portugal covered in this study, teams follow an intense pace of constant games, travel, and very difficult logistics, with the same players playing many of the games. This load applied by the numerous games that they play can contribute to an increased risk of injury, which is potentially reflected by the high number (20) of hamstring injuries sustained in the pre-international break.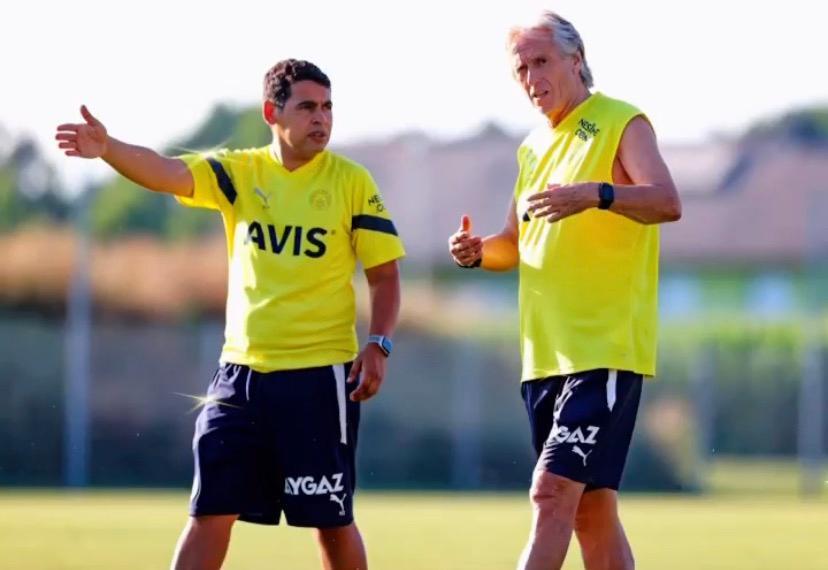 For those players who have had this competitive load prior to the international break and are not selected with their national teams, the break provides them with a chance to rest, with technical staff usually giving them a few days off. This recovery time could perhaps contribute to the decrease (13) in hamstring injuries that we see post-international break.
Conversely, players who didn't have as much of a competitive load heading into the international break are able to use this period to increase it. Technical teams that I have worked within will usually take the opportunity to give players who have not had as much game time a greater training load to reach competitive levels through incrementally increasing training loads over this period.
This may include cycles of continuous running and high-intensity running, strength work, finishing exercises, and very competitive training games. All of this causes wear and tear for those who play more and often ends up giving those who don't play as much a load that they are not used to (because during the competitive weeks it is not possible).
This dose of rest, high physical load, and training games could be a reason why there are some injuries in the period post-international break for those players who are not called up for their national team. While the loads that technical teams can impose are very similar to games, it is not the same. As a result, players are not all prepared for the stimulation that the game asks for post-international break.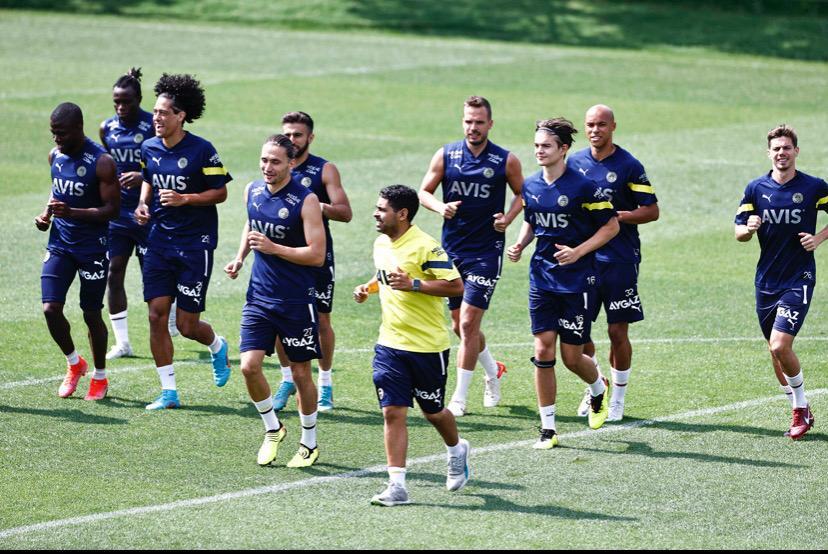 One data point that I personally have verified which helps with this relates to the continuous runs that players do during these breaks. Overloading players with continuous running can lead to fatigue that, combined with competitive games, lead to injury. This is shown in the rise of knee (9), ankle (9), and calf (12) injuries on the research infographic.
Players often subjectively associate the result of constant and intense running during this higher intensity training with pain in the calf which later generates injury. Nowadays, it is very important to work this muscle group and, above all, to understand what mechanisms of injury may be associated because, in my experience, it starts with mild pain and cramps and evolves into situations of injury. The increase in calf injuries (12) in the post-break period could also reflect the fact that many technical teams currently neglect to work on this particular muscle as a regular requirement.
This supports Green et al. (2020) which showed that high intensity running, accelerations, and decelerations contribute to calf injuries with both player age and injury history also heavily contributing to injury risk (Green & Pizzeri, 2017). Zone7 has also previously shown that the most prevalent non-contact injury to occur in training is the calf strain.
Conclusion
Personally, I think that we should be more aware of what is being done during the week with each of our players. These players remaining at their clubs are often exposed to more training loads with the possibility of accumulating fatigue related contact and non-contact injuries. We must have a clear idea of the training loads implemented for both those that usually play and those who don't play so much.
We must also keep in mind to be aware of warning signs. I believe each team should have a set of data that allows them to see what their player's limits are, considering how their methodology is applied on a daily basis, in the week and for the next game.
Above all, we must understand that during a season, there are players who will play more than others due to circumstances and as a result will have more cumulative load than others. Even if we want to bring them closer together, we will never succeed because training and playing are not the same and it starts right away with the mentality.
This infographic provides us with an interesting insight. However, there is a need to study this with an even greater depth of data. For example, we should look to understand whether the injuries have increased in relation to training or the game and whether those who are injured are players who played little or a lot in the pre-international break period.
References:
Green, B & Pizzari, T. (2017). Calf muscle strain injuries in sport: A systematic review of risk factors for injury. British Journal of Sports Medicine, 51, 1189-1194.
Green, B., Lin, M., Schache, A. G., McClelland, J. A., Semciw, A. I., Rotstein, A., Cook, J., & Pizzari, T. (2020). Calf muscle strain injuries in elite Australian Football players: A descriptive epidemiological evaluation. Scandinavian Journal of Medicine & Sports in Science, 30(1), 174-184.
---
Ready to Elevate your Performance? We provide a comprehensive suite of products and services utilizing data and AI to enable greater performance and durability amongst high-performance teams.
To find out more about our work, Book a Demo today.