We recently hosted a panel discussion at Isokinetics' football medicine conference in London, titled 'How AI can be an ally to performance and medical staff' and invited our client, Dr Raffaele Landolfi, medical director at SSC Napoli, to give his first hand perspective working with Zone7 and applying AI within his Scudetto-winning environment.
First becoming involved with the Napoli team during the 2021/22 season, Dr Landolfi had a number of ideas that he wished to implement, including finding a way "to better analyse the amount of the data that the team had [by using artificial intelligence]."
In order to achieve this, Dr Landolfi made "several attempts to [work] with artificial intelligence," but ran into a number of issues.
The first of which was the sheer amount of data he would need to create a working model. "By using the Gemelli Hospital, where I used to work, I made a rough estimation that given the amount of data that the hospital produces every year, which is quite comparable to the amount of data that the team produces, it would take 10 to 15 years to produce a good enough amount of the data," he explained.
At this point, he "gave up on the idea of making our homemade AI." This is when he got to know about Zone7.
Raffaele and Zone7 first "conducted a validation test and got to learn many interesting things such as the number of injuries that could be forecast based on retrospective data, and the general tendency of both risk levels and workloads of the team over the course of the year. I thought that could be very useful on a practical level and so we decided that this was the way to go."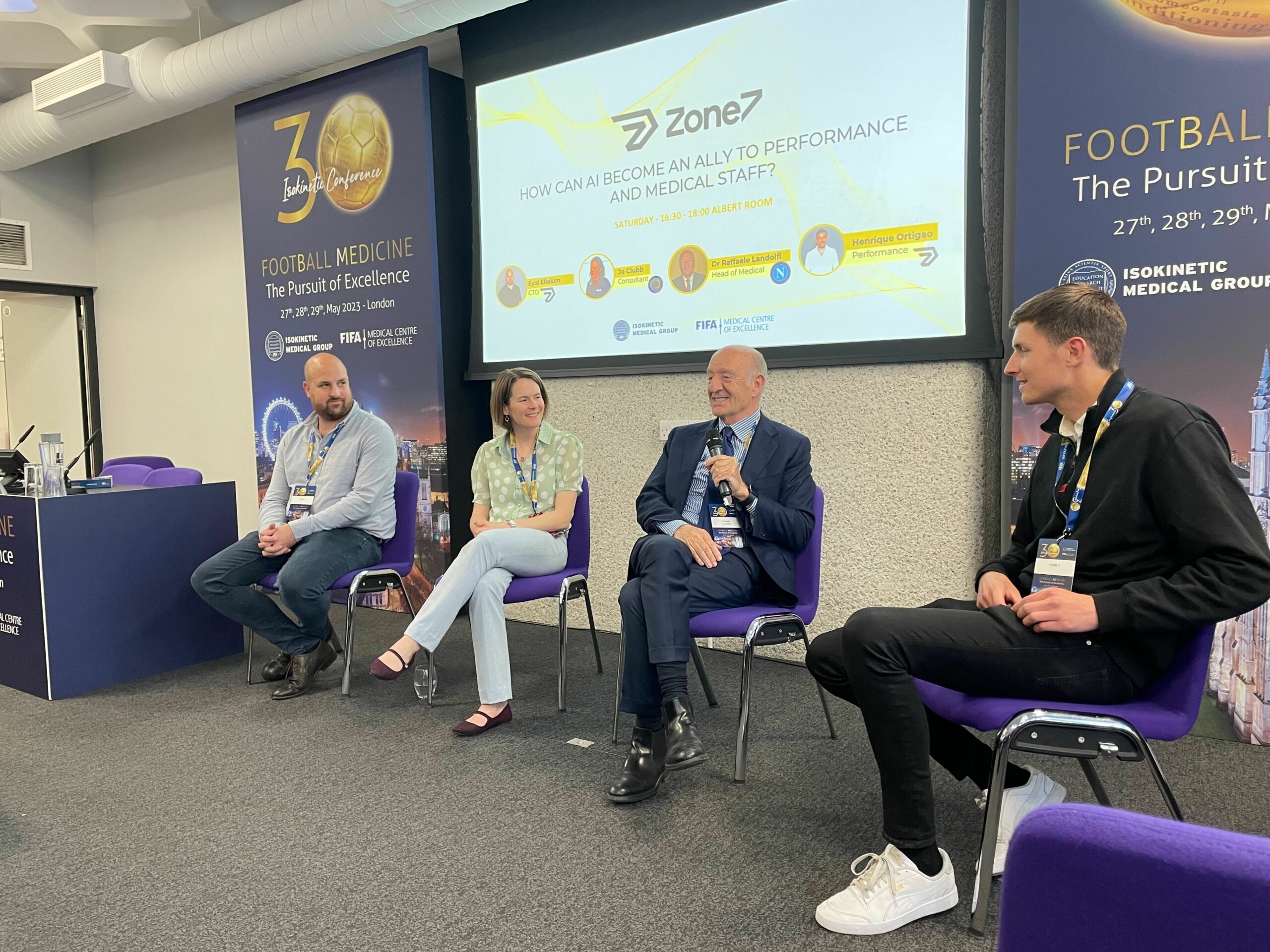 From deciding to work with Zone7, it only took Dr Landolfi and his team "a couple of months to really understand exactly how to deal with this information, what was relevant for us, what was less relevant, what we need to focus on."
This is important to stress. Each client environment is different and so the approach and the use of the system and application of the insights will vary. It is about finding a way for the system to fit into, and benefit existing workflows.
In the case of SSC Napoli, Dr Landolfi explained that for their use of the system, they decided to "focus on two particular types of player" – first team and squad players.
"First team players [are likely to have experienced] a match overload, and [a very small number] of these players were repeatedly flagged as high-risk. We were interested in understanding why, what were the mechanisms/ determinants of this risk? This was interesting for us to understand and learn from."
On the contrary, "another signal that was very interesting for the team was the fact that a few specific squad players, who have a very limited match load, were repeatedly flagged as high-risk players."
Dr Landolfi and his multi-disciplinary team (MDT) then use "this information for focusing attention on these players and to optimize the training of these two different extreme types of player."
Of course, as is the case with any application of AI, context is an incredibly important factor. The use of Zone7 is no different.
"We put together this information we receive with other types of information. This combination makes the team more responsive to the problem. While we did not use the information for deciding rotations, we did use the information to keep paying more attention to other signals."

Dr Raffaele Landolfi, SSC Napoli
He explained, "This is very important because from the combination you get to understand that sometimes we could attribute the [high-risk] flag to other issues. In any case, it's a basis for discussion and for better focusing on other signals coming from the players."
This use of the system has been a continued evolution, as Dr Landolfi was keen to explain.
"When we first started to use the system, we could not understand some types of graphs that were provided regarding acceleration during matches and during training. We looked at the red and blue points and we did not understand why at some point this risk flag could come. I was really a bit critical about these graphs. But in the end, I must confess that this is the kind of thing that I am now most attentive [to] because it gives us an idea of how variations of parameters change over time. Sometimes the workload is too low, sometimes it's too high. This is important information for people who have the responsibility of monitoring the workload of the players. This is my personal observation. I was late on that understanding, but in the end, I could make it."
This is an ongoing relationship between man and machine to improve and achieve a better, more desired outcome.
Dr Landolfi believes that "without AI, we take the risk of missing a lot," however, suggests that "it must be a hybrid [approach], a combined decision [between man and machine] about training and about evaluating the risk."
"The interpretation of the risk flag is something that requires human judgment because players are very different. For instance, at some point we were discussing why a particular player was flagged very often at high risk. We found that it was due to his particular medical history and so we reviewed this and took out three or four of these previous medical episodes, working together with the machine in order to improve the signal. The human component is essential."
This sort of harmonious working relationship is the ideal scenario for us at Zone7 when working with a client. We exist to serve the incredible talent operating inside world-leading high performance organizations to be data-informed in their approach, not data-driven.
---
Ready to Elevate your Performance? We provide a comprehensive suite of products and services utilizing data and AI to enable greater performance and durability amongst high-performance teams.
To find out more, Book a Demo today.