We are thrilled to announce the upcoming release of the most advanced version of our AI-driven human performance platform yet.
Zone7 is committed to empowering teams and organizations in optimizing athlete performance by unlocking performance data insights. With this new update, we are addressing key product areas and feedback shared by our users to provide even more valuable insights and user control capabilities. We envision a reality in which every high performance organization, whether in sports, military, or beyond, leverages interpretable AI to forecast human health risks and steer practical interventions.
After all, AI should fit and amplify expert workflows, not the other way around.
So far this year we have already released new capabilities like an insights feed that provides practitioners with a deeper understanding for "why" and "how" their algorithm generates certain forecasts and training recommendations, alongside highlighting trends and key information regarding their data asset.
This latest release upgrades Zone7's ability to be the performance-AI toolkit for performance practitioners in a few key ways: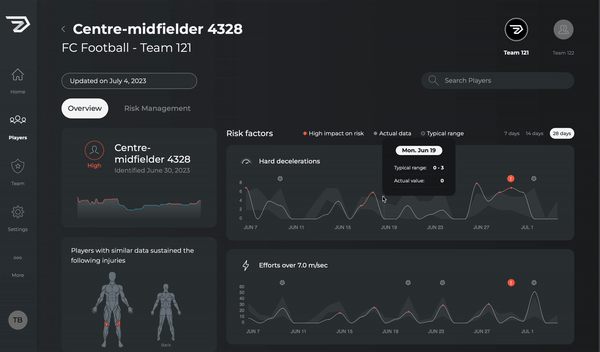 Get digestible risk insights, easily incorporated:
Zone7 now presents clear data sequences and specific parameter contributions to high risk scenarios via a dedicated "Overview" tab on individual player pages.
Further valuable context is also present through the representation of each player's recent injury history, which can be cross referenced with injury type forecasts given the known association of previous injury being a strong indicator of likely future injury.
Plan ahead and avoid elevated risk when possible
To enable anticipation of future risk scenarios, we now highlight players at low risk that will likely enter an elevated risk state if they proceed with their standard training/match workload. This enables efficient planning ahead to avoid elevated risk when possible. With this seven-day forward looking simulation, practitioners can easily interpret risk factors and make even more informed decisions around injury risk management.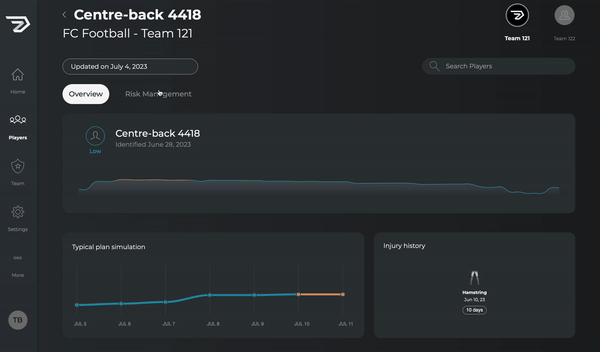 Tailor the platform per organization, because no two environments are the same:
Our goal has always been to provide users with bespoke AI tailored for their environment, data and workflows. We allow practitioners to tailor a personalized app experience for their specific needs via the settings page. This page includes app updates, squad list management, and injury data management.
With enhanced control capabilities, teams can align Zone7 with their unique requirements and gain a more personalized experience. We plan to add more and more features that provide users with the ability to customize their usage of Zone7 to their needs.
"We are excited to introduce these latest updates, which embody our commitment to make a positive impact by empowering practitioners as part of their risk management and performance optimization workflows," explained Eyal Eliakim, CTO and Co-Founder, Zone7.
"By delivering comprehensive insights through the 'Insights' feed released a few weeks ago, and by putting in the hands of practitioners the ability to steer elements of our human performance AI platform with this release, we are enabling teams to unlock the platform's full potential. With this update, we aim to provide a platform that is tailored per team and user, fostering trust and maximizing performance outcomes," Eliakim continued.
The launch marks a significant milestone in Zone7's journey to bridge AI and human performance to leverage the full potential of the technology and maximize player health. The addition of the "Insights" feed, comprehensive user control capabilities, and improved interpretability of elevated risk occurrences demonstrate the company's dedication to providing cutting-edge solutions for optimizing athlete performance and mitigating injury risk.
---
Ready to Elevate your Performance? We provide a comprehensive suite of products and services utilizing data and AI to enable greater performance and durability amongst high-performance teams.
To find out more, Book a Demo today.